Trello is a simple Kanban-based solution that helps people all around the world organize and manage their projects in a clear and straightforward way. However, when running OKRs in Trello, you might have noticed that it does not provide you with the overall picture of a workflow to gain profound insights
But worries aside, this problem is easily solved with through power-ups. In this article, we're gonna see why OKR management is a valuable for Trello, how it can be helpful to you
Why do you need OKR Management?
The OKR process helps companies to take good ideas and turn them into great execution. This process helps to tighten employee engagement and drive high performing teams. This process involves goal and strategy setting, measurement, creating alignment throughout the organization and tracking which are all focused on priorities to your business results.
Some of the most successful and fast growing companies that have adopted OKRs include Allbirds, Google, Netflix, and more. Here is a great way to use OKRs to accelerate growth.
As you begin to implement OKRs we've put together these three resources that will help you get a better sense of what your main priorities need to be and how to find success with the goals you set for yourself:
Why Bridging Strategy and Execution is Important?
The most successful senior teams allow the organization's mission to guide their day-to-day activities.
According to HBR research:
High-performing teams, compared to lower-performing teams, spend 54% more time setting direction and crafting a vision.

Lower-performing teams spend an astounding 83% more time fire-fighting and dealing with issues at a tactical rather than strategic level.
The key to closing the strategy-to-execution gap in your company is to spend more time strategizing and translating that strategy into actionable goals. Here is a good example "How OKR and Agile work together?
If you are using Trello to manage your daily operations, that is good. However, to connect daily operations with strategy, you should set visible goals that everybody can focus on. This will help ensure that everyone is working towards the objectives
Fast-growing companies who connect their strategy with day-to-day operations get benefit from the ConectoHub Trello power-up.
How to use ConectoHub in Trello?
Enable Power-Ups by selecting 'Power-Ups' from the Power-Up button in the header.
Once the menu is open select 'Add Power-Ups' at the bottom of the menu.
This will open the Power-Ups directory and you can enable a Power-Up by clicking on 'Add' to activate the Power-Ups you would like to use, search ConectoHub and add your OKR power up. Before using it you should sign up to ConectoHub.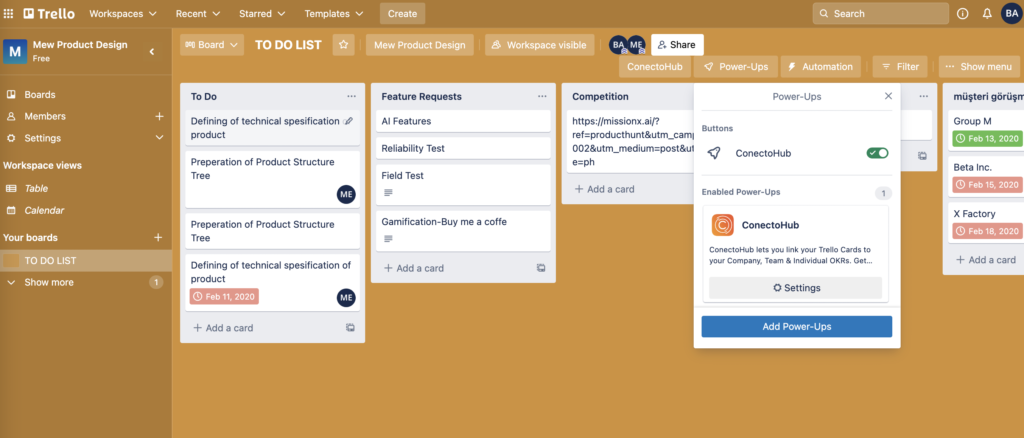 Then you can set your company, team and individual goals.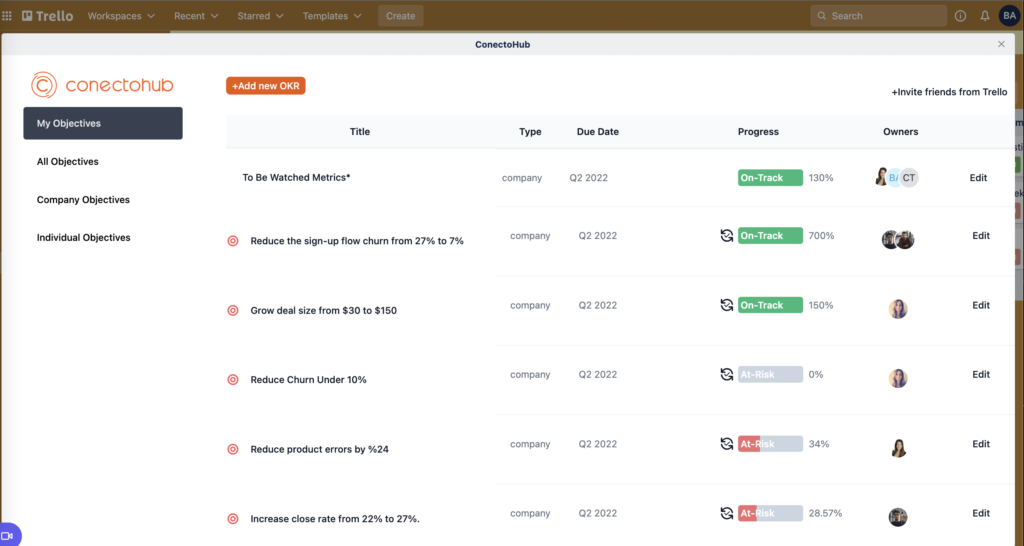 We highly recommend setting individual goals for business and private life. If you are not sure how to apply individual goals with OKRs, here is a perfect example.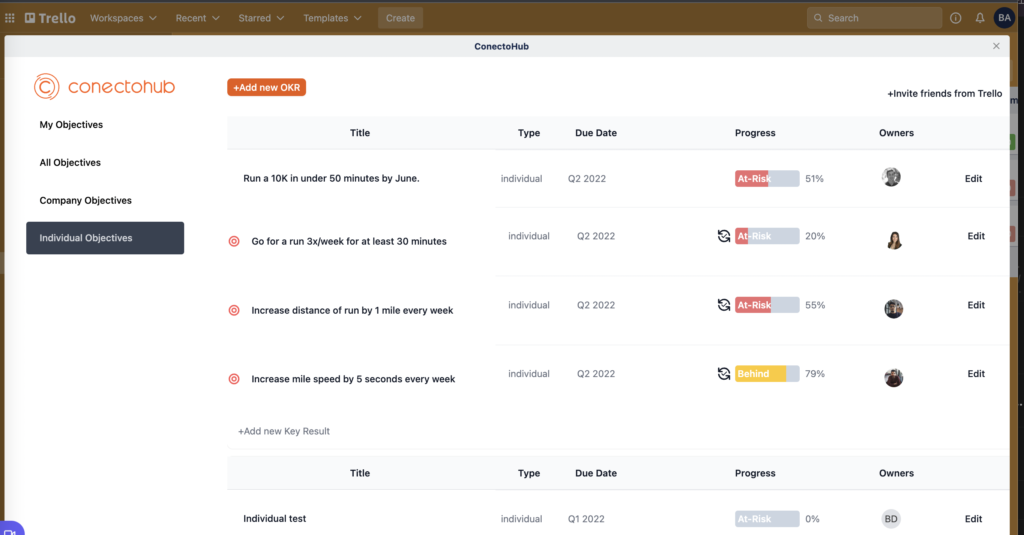 With ConectoHub Trello power-up you can connect your strategy with your daily operations. You can see & manage the important metrics of the company from a single platform, ensure that the whole team is aware of the company metrics, Finally you can be sure that everything is align with their company goals and scale fast with ConectoHub.